About dandruff
Dandruff is dry flakes of skin on the scalp. It happens when a lot of dead skin cells build up on the scalp.
The most common cause of dandruff is seborrhoeic dermatitis. This is a type of eczema that can develop where the skin is oily and hairy.
Stress, cold and dry weather, and mild allergies to some hair and scalp products can make dandruff worse.
Dandruff isn't contagious.
Dandruff is very common in children, teenagers and adults. You're more likely to see dandruff once your child reaches puberty, because this is when the oil glands become more active.
It's also more likely to affect boys and men.
Symptoms of dandruff
The most common symptom of dandruff is a dry and itchy scalp. The scalp can be sore or inflamed, particularly if your child scratches a lot. On children with darker skin, the scalp might also look brown, purple or grey. On children with lighter skin, the scalp might also look red.
You'll see a lot of tiny white, scaly flakes on the hair, shoulders and back. The flakes are more noticeable on dark clothing.
Dandruff might look like cradle cap, which is a pale yellow, scaly, oily crust on babies' scalps. But with cradle cap, the scale is more noticeable, and it's often thicker, yellow and harder to remove.
You might also be concerned that your child has psoriasis. But in psoriasis the scales are much thicker and silvery, and they often occur in obvious patches.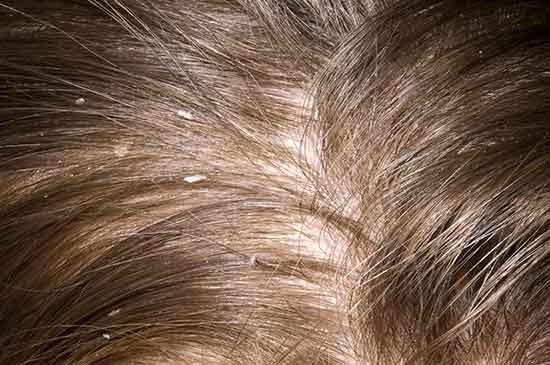 Does my child need to see a doctor about dandruff?
Probably not. But take your child to see your GP if your child:
has dandruff that doesn't improve after 2-3 weeks with the dandruff treatment described below
has thick, flaky patches in the scalp
keeps scratching despite treatment
has a rash on their body.
Dandruff treatment
You can usually control dandruff by regularly washing hair with a medicated shampoo. You can buy medicated shampoo from the pharmacy or supermarket.
Look for shampoos with the following ingredients:
2% ketaconazole – for example, Nizoral
selenium sulphide – for example, Selsun
coal tar – for example, T-gel.
If you don't know which shampoo to buy, ask your pharmacist.
You or your child should massage the shampoo into their scalp and leave it in contact with the skin for 5 minutes, then rinse out.
Make sure your child's hair is brushed before shampooing to remove some of the dead flakes. But note that brushing too hard might irritate the skin and cause bleeding.
Once your child's dandruff is under control, cut back the use of medicated shampoo. For example, your child can wash with their usual shampoo for one wash, then use medicated shampoo for the next wash.
To stop the dandruff from coming back, your child can use medicated shampoo as long they need to. For example, some children might keep using medicated shampoo once or twice a week.